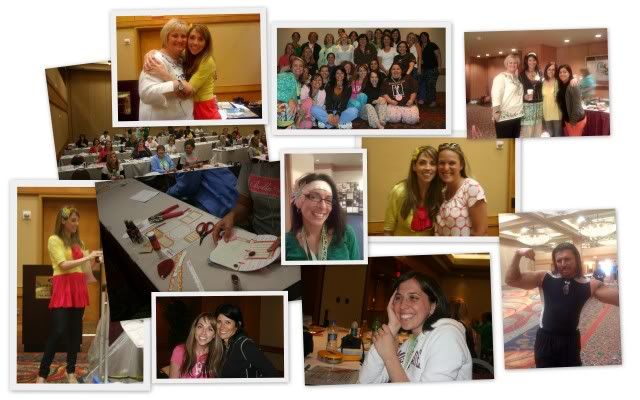 Back from Georgia... I didn't catch onto the accent as well as I'd hoped. Even though Brittney had me reciting, "Gretchen, do you want some
piiie
?" and "That is
niiiiiice
."
This event was a blast!!
Highlights of the trip:: Turning off the lights to my class when I was attempting to make the classroom brighter then finding out I'd turned the lights off in all the classes! ha! The buff dude in the bottom right of photos (ask Margie about that one), putting all our cameras on self timer at the
PJ
party so we could all be in the photo then laughing at the cameras going off, getting 2 hours of sleep before my flight home then the sweetest* Jennifer giving me a ride to the airport!!
(She didn't trust my shuttle:)
Running

(literally)

with Brittney to the mall to get

PJs

, sharing a room with my girl,

Grethchen

! :) Thank you Lori & Betsy for the necklaces!

Can't wait to get some photos with Q&A wearing them.

Taking photos over and over with Nancy H
olley

b/c we we kept laughing

(the girl who won the golden ticket on my blog).

Thank you to Kimberly for the "Q,"

Rebecca

for the party hat and banner. Thank you to everyone for lots of laughs and instant friendships!