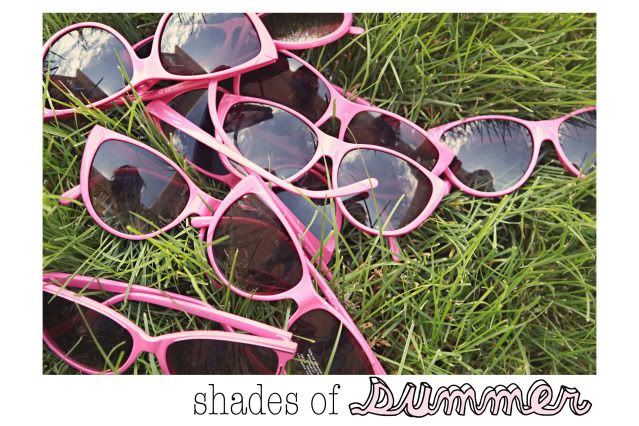 *edited* SOS signups closed at 6/26 6:30 pm
mtn standard time
*
Let's kick off the Shades of Summer season 2! I am so excited to see all you cute ladies
workin
' these pink pretties. For those of you who are new to SOS-- Last summer I connected with
bloggers
all over the country with yellow
stylin

'
shades. They would take a photo wearing them and then send them onto the next person on the list. Collin and I ended up sending out 10 boxes of shades to over 150
bloggies
. It was a blast even though only 1 box made it's way back home... :)
We had so much fun we had to do it again this year!
**Edited***
thanks for your excitement we've hit our quota. If you emailed me by June 26th at 6:30 mo
untain standard time
you are in. ***
If you would like to play along
click here
to read the requirements and how to
sign up!
There is limited space so check it out if you are interested.

*We are also going worldwide-- Kristin
Reinhard
is hosting SOS in western Europe so email her at
everydaycreativeness
(at)
gmail
.com to join in on the fun.
*Click on the
details here
and let me know if you want to host and SOS in your country.
I am organizing my office so stay tuned for a scrapbook giveaway. xo