Recently I was looking through one of my old journals & I mean it was
old
. There were stickers of Nsync, if that helps you know the time frame.
My old-self kinda bugged me and how much I talked about boys... but one thing I noticed that I
love
was how often I wrote down my goals. Every few months I would have a list of things I hoped to accomplish (short & long term). Even though I rarely achieved them
,ha,
writing down my wishes is something I've thrived on. Probably because they guide and direct me to who I want to be. That's why I love Rhonna Farrer's
21 day challenge
! I've attempted it in the past & this year I am motivated to do
each day
!! So, here's how it works...
You pick a goal or habit.
Rhonna puts together an inspiring quote graphic each day that we can put into an album, mini book, etc. I've worked on eating healthy
(that was a bomb:
), exercising
(not so great that time either ha!)
, reading scriptures
(
whoops. ;)
It can be anything! I am going to decide by the end of today what my goal is but I did throw together my quote and added it to my ATC card holder. I used
this ATC
holder last time and I have a vision of filling it up with creative quotes--this year I will do it. Today's quote was a perfect start for the challenge...
"Don't let fear of failure discourage you. Don't let the voice of critics paralyze you—whether that voice comes from the outside or the inside. You are a great power for good. You will make the world a better place. Lift up your chin; walk tall. God loves you."
D.F. Uchtdorf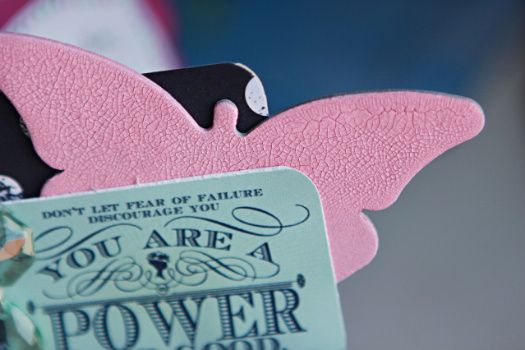 A cool technique you should try it to paint with Tim Holtz's
crackle paint
then spray
glimmer mist
to give it some shimmer.
snap, crackle, pop!
Card holder display:
7 gypsies