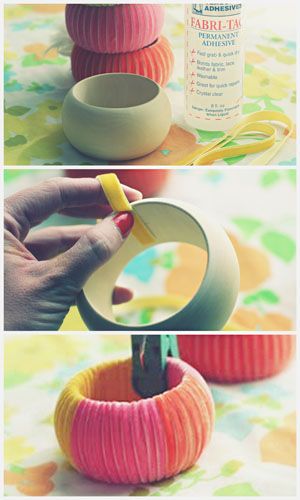 Today's guest blog is from by

Rebekah

who has lots of cute, creative ideas at her blog a bit of sunshine. We are now blog buddies and here's her take on the friendship bracelets

One for me One for you

blog series. They velvet wrapped chunky bracelets that are cute + colorful.
velvet wrapped friendship bangle
You will need a wood or plastic bangle from the craft store as well as velvet ribbon or fabric scraps and some fabric glue. I prefer

Fabritac

or a gluegun would work fine too.
Simply measure out a few yards of ribbon, no worries if it's not long enough to cover the whole bracelet you can always cut another piece.
Glue one end of the ribbon down using the fabric glue onto the inside of the bangle.
Wrap the ribbon evenly around the bracelet until the entire piece is covered.
Glue down the other end and use a clip or clothes pin to keep it tight while it's drying. Get creative and glue on any fun fabric rosettes or vintage jewelry you can find or make a color block version like I did. These are so easy and so addicting!!