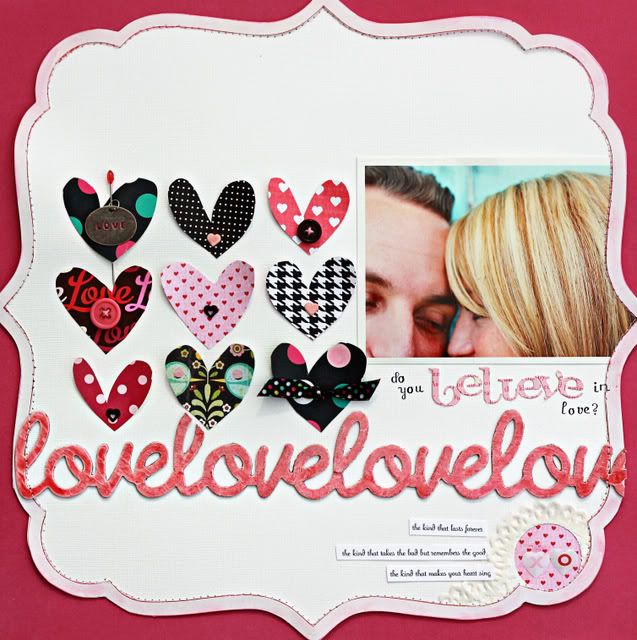 Just a quickie layout to share since it's that time of year... the gushy
love
holiday :) which despite its insane commercialism, is actually one of my favorites.
It's funny that the scrapbook pages I like the most are the ones that I finish during an episode of The Office. Not sure why... you'd think I'd love the ones that take me days to finish. Ha! I despise those ones. ;)
This one's easy peasy...
hand cut hearts, paint the "love" raw chipboard white, spray with Glimmer Mist, add finishing touches, sew around page. done.
(Click on smaller pic to view larger if you wish.)
I love those Making Memories new
metal charms
and I filled the word in with chalk then used one of their cute pins to keep it in place.
Making Memories:
love notes
line
Love script chipboard:
Kit of the month
American Crafts:
dot paper
,
ribbon
Basic Grey:
Urban Prairie
-my favorite.
Spray Ink:
Glimmer Mist
font: fling
Now to answer a couple more questions:
Carol said...
ok...how do you get your pictures so big on blogger? mine are not near as big and they are set to large.
-A popular question is
how to get larger sized photos on Blogger.
This is how I do it:
Download to Photobucket (or any online photo site that has a "direct link" to your photo). Resize to 640 wide or for vertical 640 high. Highlight the direct link to your photo then click copy. Now open Blogger and instead of browsing your computer to download your photos you will copy the direct link into the right where it says URL... Makes sense? I didn't think so :) just kidding, it's easy once you try it.
Well, I guess I just had time for one, but it's a good one, right?
Let me know how that works. :)