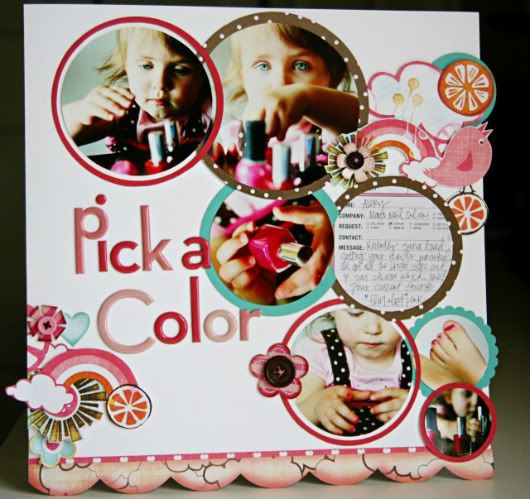 As seen in Creating Keepsakes magazine.
There's nothing like some quality girl talk and finger nail painting. Avery always reaches for the brightest colors-her favorite is "flirt alert." Which I hope isn't an indication of what to expect in the highly anticipated teen years.
Thanks to Kerri, one of my blog readers, sent me a link to
Piggy Paint
.
(An all natural nail polish.)
I'm excited to check it out...
One of my fave lines from Sassafras
:
patterned paper
,
cloud trim
Making Memories
:
Puffy Alphas
I want to get this awesome
circle cutter
PS Guess what? Out of the 10 boxes sent out for
Shades of Summer
1
box found it's way home. yay!
I'll share pics soon.
(if you have one sitting around-keep it going)
Stay tuned for details about the second round of Shades of Summer-it's gonna be fun!