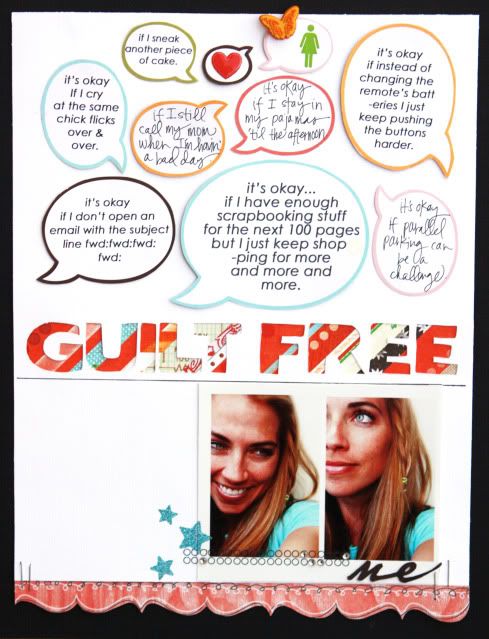 page from Jan.
Creating Keepsakes
Have you ever seen the sometimes cool-sometimes dorky monthly highlight in Glamour magazine called, "
Hey, It's Okay
." It sparked an idea for a scrapbook page where I filled
thought bubbles
with "It's okay..." statements. There's no doubt in my mind that you are like me and we tend to be hard on ourselves with everything we are balancing in life. That's why I am asking, no pleading, to be a little more easy on yourself. Take a break on me. hmmmm, that doesn't really work. Try this... how about some free stuff-that's way better than my virtual pep talk. :)
First up, my favorite art journal etsy shops-
Evalicious!
I love checking out her shop and seeing what delicious treasures Eve has cooking up. Right now she has put together some rad Coptic Journal kits and yummy embellishments that she wants to giveaway to one of you. Sweet! I also just noticed that she added some of her Everyday art journal kits

similar to the cool Christmas one she had

... they seriously sell like hot cakes!
the owl book is showing what the finished kit looks like but not included in kit.

Next, there's the glorious
Elle's Studio
!
You must check out the cool stuff that Elle
designs
. They are super easy to incorporate into scrapbook pages and projects. I recently made a mini with some of her adorable tags that I will be sharing asap. (asap meaning 'as soon as I get off my tush and finish it.') I love her date tags, calendar tags, stamps... I could go on and on. It's a rainbow of goodness I tell ya!
To be entered to win one of the prizes it is quite simple. Leave a comment with an
"It's okay..."
statement that relates to you. You can be serious, funny, witty whatevs... just do it & really mean it, or at least pretend just for me.
Supplies:
AC:
thought bubble
paper, circle rubons, pen
Sassafras: bottom border, patterned paper