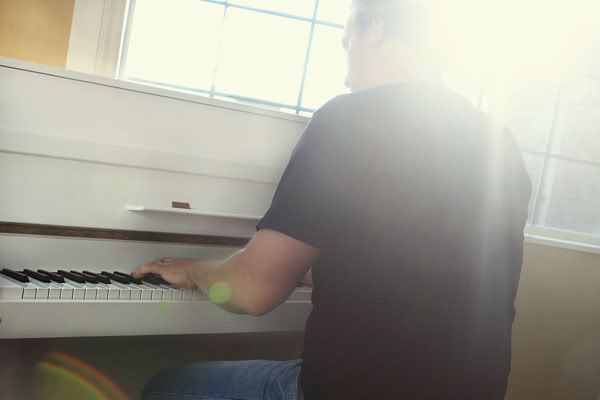 Collin made the whole gift giving a lot easier this Father's Day, and I mean easy as in-he bought his own present. It happened as follows:
He spotted this piano on the side of the road at a garage sale on his way to work
He called me ecstatic about his 'perfect condition find' so he bought it
He then tried to move it with Russ up the 99 steps to our house (okay, that's an exaggeration)
We asked our husky neighbor to help us
Ta-dah!! It is now safely in our home.
This piano definitely brings a magical feeling to our home. One Friday night, after a long day, I fell asleep with the windows open and a cool breeze while he serenaded me... like I said, magical.
Plus, he learns my favorite songs: Adele
'Hometown Glory'
& Coldplay
'Death And All His Friends'
<=
love that one!!
Sometimes he makes me sing along...
haha it's hilarious

!
Have you ever tried to sing like Adele? There's a reason she made a CD & not me. I will stick with cutting paper & glue and only singing in the shower or in the car!
Do you remember the SOY announcement and although I was a tearful mess I said I wanted to buy Collin a piano... it finally happened. :)
PS you may still enter the giveaway below, I'll announce the winner... soon.