(hijacked by Collin)
Bored.
Kids are napping, at the same time...I've been looking forward to some free time, cuz I have a million things to do: clean the house, take the clothes out of the wash that now smell like mildew and spray a gallon of Febreze on them, scrape dried Chex off the floor beneath Quincey's high chair because 14 month olds feel inclined to drop all unwanted food, maybe finish painting the kitchen cabinets so we can finally take the tape off the walls and put handles back on the drawers .........but all I can muster up energy for is...uh...looking at blogs?
Liz is bringing home the bacon at CKU and I am officially Stay-at-Home-Dad...for 3 days. I thought I'd share some of my experience, I mean, isn't that what blogs are for? Everyone in the world is anxious to read what's in my diary, right? "Dear Diary, sorry it's been sooooooooo long since I last wrote..." Why do we feel we need to apologize to a book?
Here it goes:
Thursday Night- Sleep? What's that? What does that word even mean anymore? REM cycle? Is that the name of their new comeback CD?
4:39am- Avery comes in and lays on the bed, perpendicular to me with her feet on my face. She must've dreamt she was Michael Phelps doing a 354,000 meter butterfly cuz the kicking never stopped.
6:15am- Both kids up. Go to kitchen, unscrew 2 sippy's. Smell the cups and get a nice lung-full of half rotten milk. Grimace, as if I were expecting to smell fresh tulips. Clean sippys, fill to brim with milk, turn on PBS and fall back asleep on the couch.
6:17am- Avery is too into the show to want to walk all the way down to the hallway bathroom so she pp's on the carpet.
6:18am- Ask her "Hey, where does PP go?!"........."Inna Potty!" she replies.
6:18:05am- back to sleep
6:21am- go to the kitchen, get out the oatmeal, forget to put any in the bowl and microwave empty bowl for 90 seconds. Pull out piping hot empty bowl, realize there's no oatmeal in it, try again.
6:39am-Put Quincey in her high chair, slice up a banana. Face her towards the window, so that when she is done eating she'll look outside for at least 20 more minutes before crying and give me more time to waste time on the computer.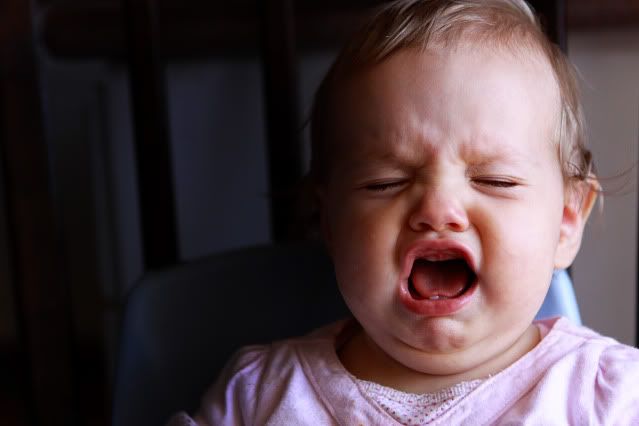 6:41am- Add way too much brown sugar to the oatmeal, and commence my daily attempt of Mid-Flight Re-Fueling: I chase Avery around and try to spoon food into her mouth. This is an exercise in futility.
7:01am- Give up on feeding Avery and change the channel to "Sid the Science Kid". Try to understand the purpose of the "Gerald" character on that show. Hyperactive ADD kid? Hmmmm... government conspiracy?
7:05am- Turn on computer. My heartbeat starts to increase as I see all the new posts on my Google Reader. I spend 45 minutes reading about successful business owners, entrepreneurs, and MLB players, meanwhile constantly asking myself, "How do they manage to do it all? I swear they're totally faking it."
7:50am- Quincey starts losing interest in the lawn and dying bushes out front and starts whining. I cave and break up some dry cookies from Sunday. Go back to computer.
8:35am-fill bathtub to 1.5 inches since that stupid "Parents Aware" commercial on drowning kids scared the heck out of me.
8:55am- bathwater starts getting cold. Drain cold water, refill with warm, and start bath time over.
9:15am-fresh diaper/undies and clothes for the kids. Avery is wearing yellow plaid pants with a shirt my mom got on a cruise that has two cartoon Dalmatians hugging and says, "Croatia" above them.
9:18am-change recently fresh diaper that now is filled with a dozen Milk Dud-like substances.
10:22am- Trip to Costco. I really don't need a bag of 188 rolls of toilet paper, but oh...well...
10:25am- start noticing I am the ONLY male at Costco who is not an employee. Offer a guy $10 for his red vest and name-tage so I feel less awkward.
10:31am- find myself turning into a Costco Food Sampler. The "Sampler People" know who you are. "Uh....what is this? Artichoke hearts? ....Mmmmm....those look delicious, maybe I'll take just one. MMMMMMMmm, those ARE good, let me grab a couple more for my kids (pretend to give them to kids and eat them myself). Uh....what, uh...what isle are these on? Oh...I better go grab a box of those before they're all...gone..."(start walking down the isle until I'm out of site, make a run for the dairy section as I have no intention on buying a 10-gallon drum of artichoke hearts.)
11:18am- trip to the Thanksgiving Point Farm. Again, quickly noticing I am the ONLY dad there.
11:24am- start getting strange looks from all the moms. "Uh, hi...I'm not going to offer your kids candy from the back of my van."
11:25am- make a mental note to call Supercuts sometime, wondering if my curly hair makes me look like a pedophile.
11:34am- give Avery a handful of corn kernels to feed a horse.
11:35am- console a crying Avery after pulling her hand out of stupid hungry horses' mouth. Later notice sign that reads, "Please do NOT feed this horse."
11:36am- look at the clock and think, "Oh my gosh...it's only 11:36am? What am I supposed to do for the next 9 hours?"
12:43am-try to feed Avery the healthy snacks I brought.
12:44am- ditch that idea, go to Iceberg and get a huge strawberry shake. Mentally check one serving off the fruit and dairy food group. Feel good about myself.
12:58pm- Avery is screaming all the way home. Feel bad about myself.
1:47pm- put kids down for a nap. Both have a bad cough so I pull out the Dimetapp. A drop falls on my hand, I taste it, and make a mental note to start giving my sick kids Alexander the Grape Otter Pop juice instead since it's the EXACT SAME THING.
1:48pm- get tempted to give 2 extra drops of cough medicine to each kid after I quickly equated a drop of cough medicine is worth 7 more minutes of sleepy time.
1:55pm- ignore the messes, laundry, bills, and start searching ambiguous terms in Youtube like "funny" or "stupid". Watch Chocolate Rain 11 times and that "Give 'em the evil eye, son" baby 14 times. Notice that the baby is in his car-seat holding an ice cream Drumstick. Feel better about giving my kid a strawberry shake.
4:02pm- both kids are up.
4:11pm- both kids are now crying
4:15pm- muster the energy to unstick my sweaty backside from the pleather office chair and go get the kids.
5:01pm- attempt a fancy dinner of Macaroni and Cheese. Read the box label. "Wait a second, since when did 1 box yield 4 servings?
5:02pm- feel fat
5:15pm-Overcook mac and cheese, put kids in car, and go to Little Ceasar's for a pizza.
5:31pm- hand over $5.39 to a very Gothic looking teenage cashier and leave Little Ceasar's feeling happy, but also ticked off at my parents for some reason.
6:18pm - bored, contemplating recreational/time-wasting options.
6:47pm- desperate
7:08pm- put kids in the car and head for the mall.
7:31pm- another strawberry shake and it's off to the mall playground. Take out 3-gallon bottle of Purell I picked up at Costco earlier that day. Douse kids head to toe.
7:59pm- look at my watch and think, "One more minute....one more minute....one more minute..."
8:00pm- attempt to put two screaming kids in the car. Avery goes into her carseat as easy as a cat goes into a bathtub. I keep wrestling her as concerned passer-bys look at me like I'm an idiot. I start bribing with another strawberry shake. Quincey puts her thumb in her mouth and give me the, "There goes your 'Father of the Year Nomination' look.
8:18pm- singing "I'm just a little girl caught in the middle, life is a game and love is a riddle" song with Lenka on CD, wondering how the heck I have the words memorized.
8:37pm- got home 10 minutes ago but kids aren't asleep yet so keep driving around the neighborhood. Get suspicious looks from neighbors like I'm about to do a drive-by.
8:47pm- kids eyes starting to get droopy. I see an old man with a hose watering his driveway. Don't have the heart to tell him watering his driveway won't make an RV pad suddenly start growing.
9:03pm- kids are asleep. Try to get them into their pajamas without waking up. Wishing I could call Jason Bourne for help.
9:18pm- kids in bed, fans turned on for extra white noise.
9:19pm- back to the computer to check Google Reader. Start wondering what exactly constitutes a full-blown "blog stalker".
10:15pm- Seinfeld re-run. George purposely fails an eye exam so he can get free books on tape. Classic.
Sometime between 11:48-1:23am fall asleep. Get a couple late-night kicks to the face by Avery.
I gotta hand it to you mothers out there, being a SAHM is no easy job. I'm convinced that good parenting is less about turning your kid into a future Harvard protege graduate at age 13 and more about simply making sure you're kids...don't...die. So, for now, I will continue to complain daily about the struggles of being a hard-working husband in hopes that my cover will never be blown.