First off, are you kidding me with that last post?! I was dieing laughing when I finally got a chance
after CKU
to read Confessions of a SAHD! lol! That was hilarious and definitely sounded like a typical day... for the most part. Thanks Collin for being Super Dad & giving us all a laugh!!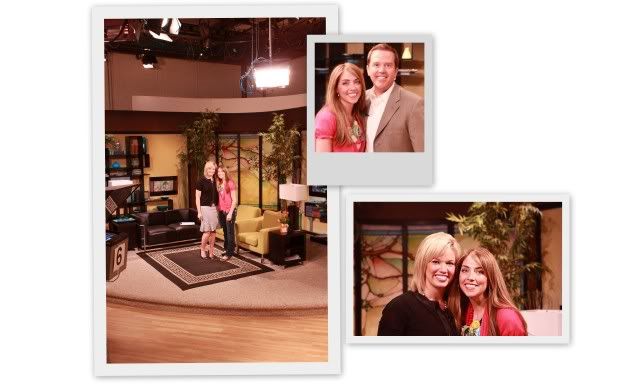 This morning Collin and I drove up to KSL because I joined Brooke Walker at the Studio 5 set to chat about the
monogrammed wall
that she saw on my blog a couple months ago. She brought a faux wall to the studio where I hung up some pictures and Ks. I was a little nervous thinking about how I would recreate it in the studio but it turned out super cute, actually even cooler than the one I have at home.
haha!
I also talked about how to cover your own wood letters you can find at craft stores with fabric & the best places to find letters. That's my favorite part-the hunt for the letters- because once you start collecting you will see them everywhere and they each have a story and meaning behind them.
Oh, and I also shared this tip from Martha Stewart because whenever I want to decorate a wall Collin gets this funny look on his face because his perfectly painted wall will now have tonz of holes in it... so use
this tip
to avoid all the 'oops' when hammering nails.
The clip isn't up online but I will let you know when it gets posted. Loved working with Brooke again-she is a sweetheart & of course Darin.
Happy Monday!