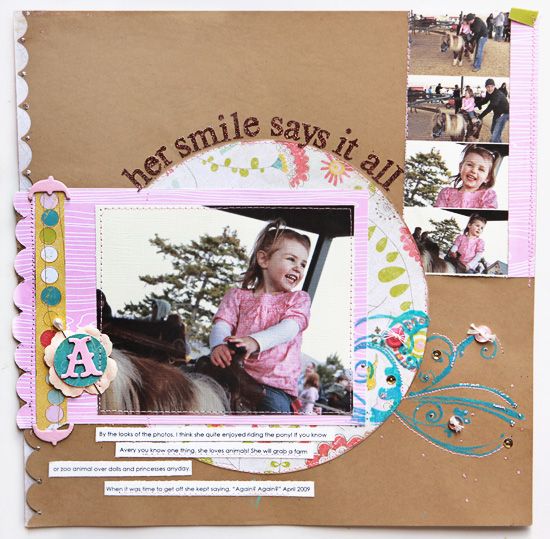 Copyright:
Creating Keepsakes Magazine
The right side of this page was cut off in the magazine so I wanted to show it here. 
Looking at this page reminds me of one of my
favorite
moments of Avery. It was a cold Easter earlier this year at the Thanksgiving Point & since the egg hunt was over in .2 seconds we had a lot of time to kill. So we headed over to the farm. If you know Avery you know that she gravitates towards animals over princesses & dolls any day. It's clearly obvious by the photos that she was a bit ecstatic to ride a pony for the first time. I can still hear her little giggle "again... again" when the pony stopped. 
This page was featured in a
Creating Keepsakes
article by Lori Fairbanks on how to take your layouts
up a notch.
So instead of just stamping I did a couple things to up my game. 
I stamped using a
glue stamp pad.
 It works just like an ink stamp pad. First, you apply glue to your stamp & stamp your project. It goes on clear. Then, add your
 flock. Last, shake off the access to use again & lightly brush with a foam brush any loose colorful fluff. It works with glitter too.
Once it dries add all the stitching, jewels & buttons to the image. enjoy.
Making Memories: Letters, Flower