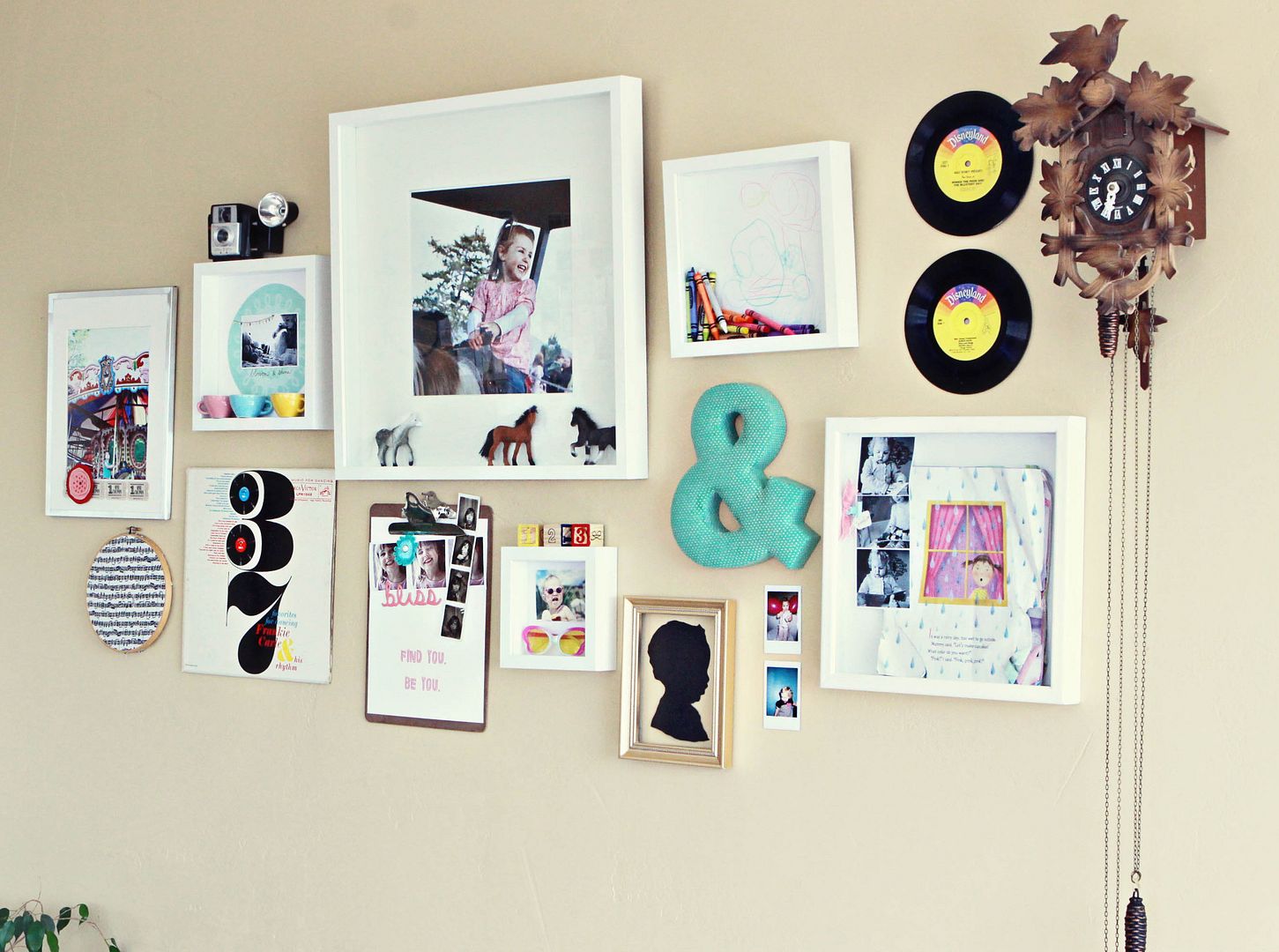 You might have already read this at Ali's blog but I wanted to re-post it here...
In a recent issue of Martha Stewart Living there was an article about a little girl's birthday party where they displayed a wall of "scrapboxes." Right then, I tore out the pages and was ecstatic to start celebrating my daughter's memories in a frame. Yeah, I know it is reminiscent of shadow boxes and can be considered quite cheesey, but hey, who doesn't like cheese? ;) Honestly though it is a fun and creative way to document and showcase pieces of my daughter's lives.
Think of it as your own storytelling wall. What story do you want to tell? What stories do you want your children to remember each day?
First, choose a wall to decorate. Because of the content of the frames I settled on a wall in my daughter's play room. I'm so glad I did because my oldest daughter was completely elated when she walked in and saw all these wonderful memories. Her eyes got so big as she recalled horse back riding for the first time & one of her drawings so I know she will enjoy seeing the pictures everyday.
Next, gather decor pieces including frames, photos and some mementos. The white frames are from Ikea with about 1 3/4 depth which gives a great space to fill with keepsakes. Here are a few ideas I used in my frames.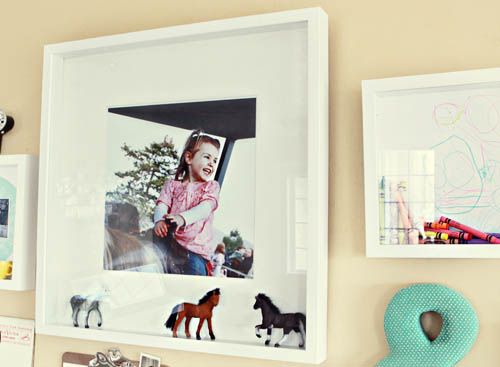 FAVORITE TOY
Pair a favorite toy with a favorite memory. Think of a photo/story/toy that illustrates something your child loves at the moment. Or if your child has grown think of something they loved and possibly shaped who they've become. For my daughter it is animals. She loves animals and one of her happiest moments was riding a pony for the first time. Her smile says it all. I included several horse figurines that she loved to play with but has grown tired of. Of course once she saw them in the frame they looked so fun again. Thankfully, I was prepared with others she could play with.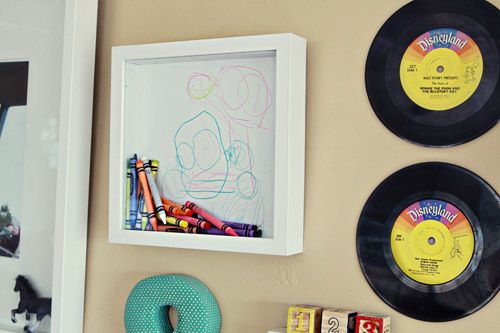 CHILD'S ARTWORK


This is often my favorite keepsake to showcase in our home. I don't think we realize how much it means to our kids when they see that your hung their school work on the fridge or display it in your studio. I included crayons for added color and playful touch.
FAVORITE MEMORY


One of my favorite memories is having tea parties with my daughter. I included actual teacups glued inside the frame. I took out the glass because they wouldn't fit with it but was still happy with the result. I printed the photo in black and white so it wouldn't compete too much with the other colors. Lastly, I added a couple of rub ons from my line craft line, Dear Lizzy.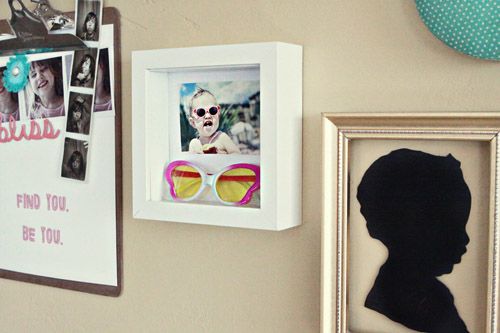 EVERYDAY ITEMS


Since my daughter's famous rain boots couldn't quite fit in the frame, I thought of the next best thing... her sunglasses. She adores wearing her shades so much that when I was making this frame she wandered off with them, despite the fact that they don't fit her anymore. I will replace it with the originals once I find the treasure hunt she's put me on. You could also include clothing, swimsuits, newborn outfits, hats or even shoes.
BOOK


I love that children create an attachment to their favorite books and want to read them over and over. Not only do they remember the story but all the fun times you spend together reading. I included a strip of photos of my daughter reading with the date and title of book, "Pinkalicious." You can tell this book was loved and it was okay to frame this one since it has been replaced with a new one.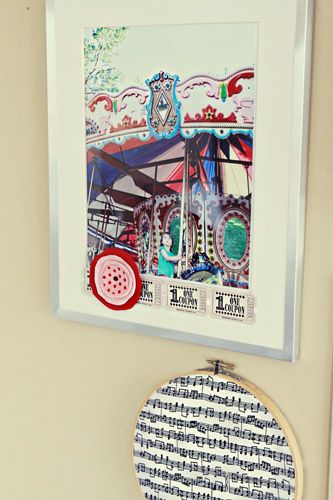 MEMORABILIA


In my studio I have a cloth box from KOLO where I store nostalgia and pieces of our adventures. In this frame I included a photo from a carousel ride, tickets I saved, & embellished with a flower by Prima. The options are endless for items in this category including: clothing tags, movie tickets, menus, postcards and love notes.
FINISHING TOUCHES
Along with the frames I added decor pieces and vintage keepsakes from my childhood including Disneyland records my Mom saved all these years and a vintage camera from my Grandpa.
Other decor items include a clipboard with favorite quote that I can switch out easily, photobooth pictures of my little brother, a retro record album, vintage cuckoo clock, Instax photos, a silhouette, "&" from Anthropologie, and finally some music note fabric.