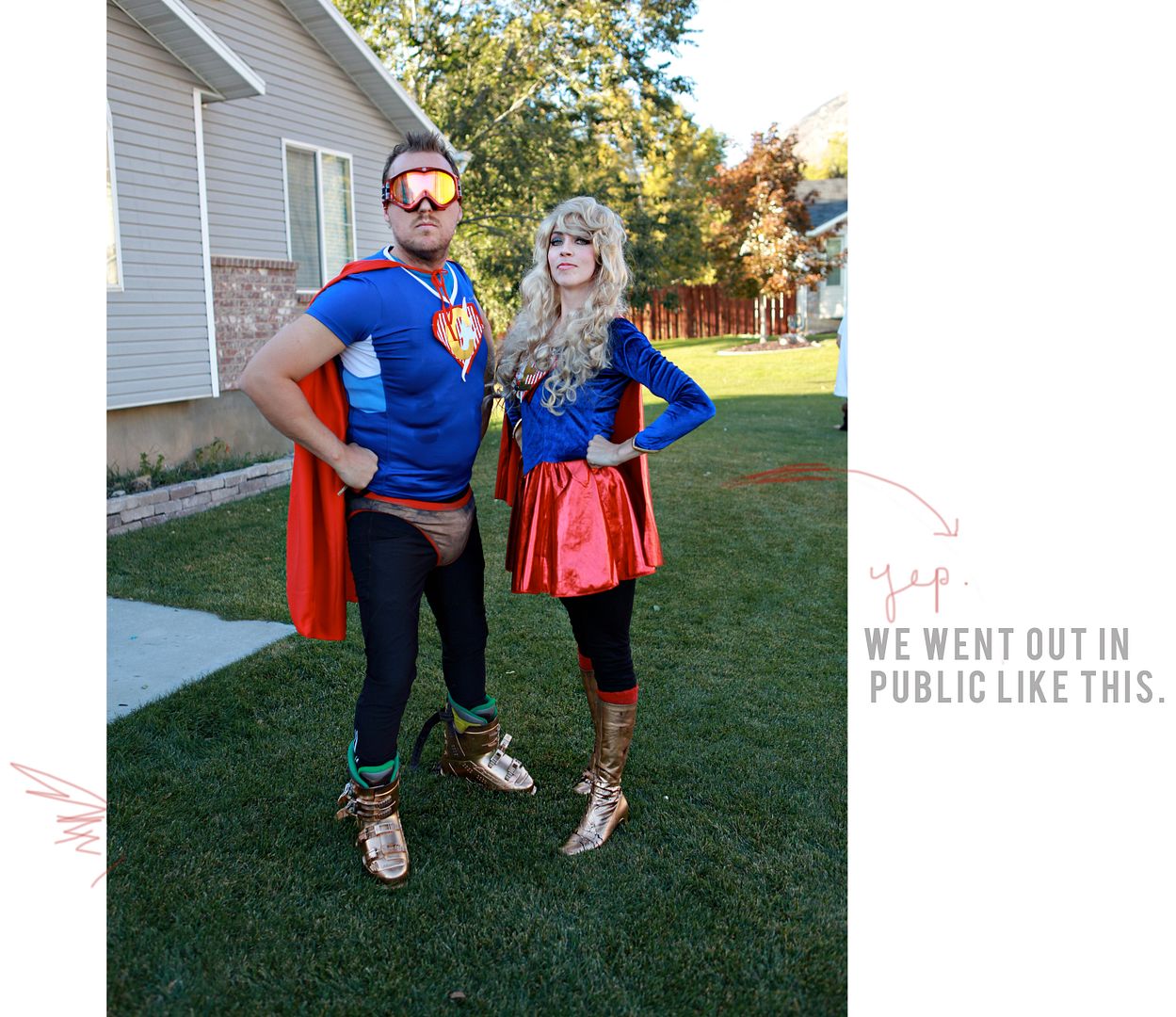 Seriously people, I went out like this in public! What was I thinking and who talked me into this? I was trying to plan ahead for a costume but it ended up being back-ordered soooooo, like usual, Collin and I put something together a few hours before. Usually right when we are heading out the door I have second thoughts but I look at Collin and die laughing then I convince myself that it's okay to be a dork and purposely embarrass myself on October 31st.
I never did think of a super hero name or a clever super power but here I am with my date: Captain Cilantro.
Our darling Lola Lamb.
Beautiful Belle! My friend, Jen, made this costume... and Avery loved it. She loves the songs from our Disney Princess playlists & Sing Along dvds since she's never seen the actual movie. At the end of the night we recorded her and her cousin Lilla, who was also Belle, singing Beauty & the Beast songs while holding hands walking down the pumpkin lit streets. It was a happy momma moment that's for sure.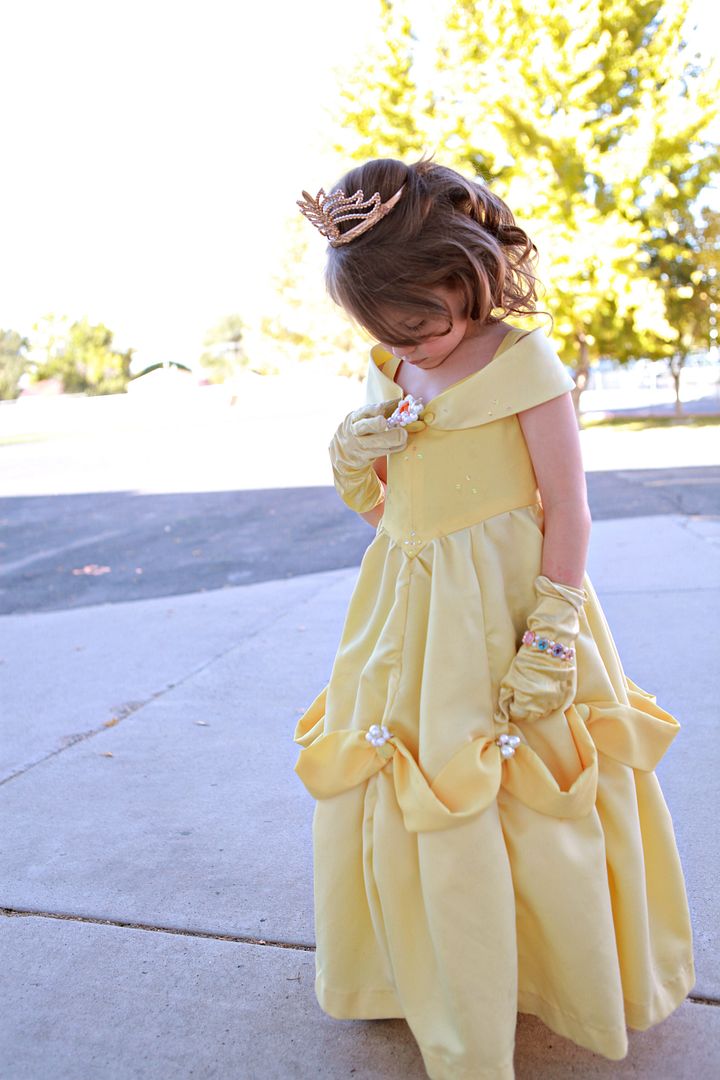 One of the only times in Avery's life she's let me do her hair was on Halloween morning as we were getting ready for the school parade... next stop, Toddlers & Tiaras. ;)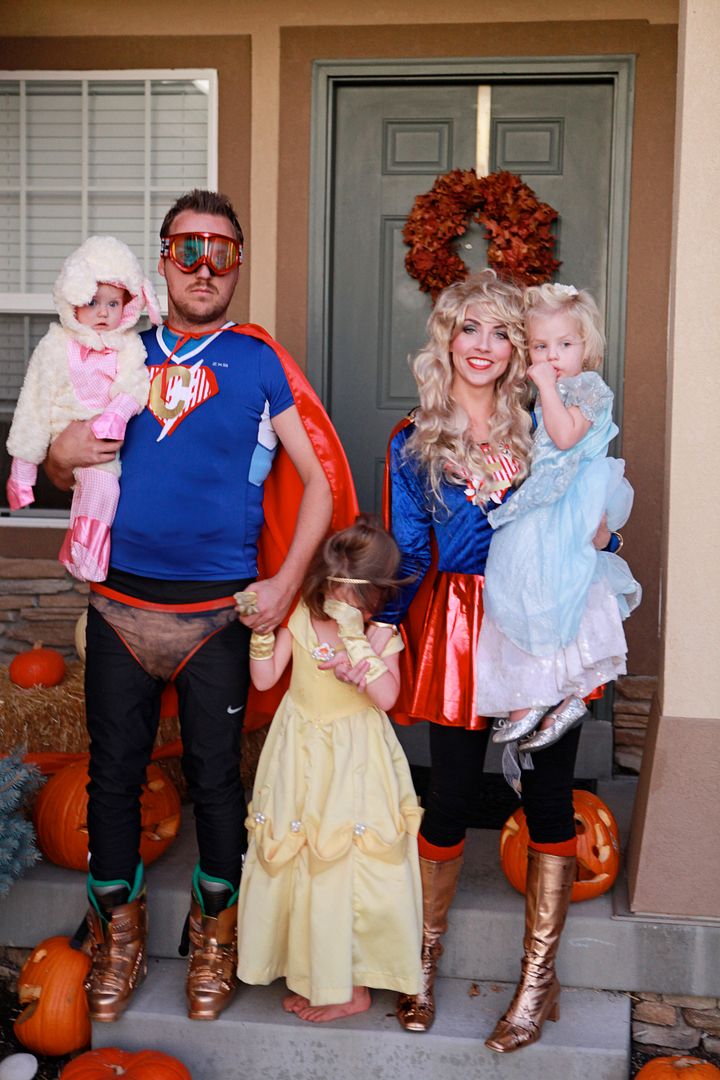 For a 3 year old who changes her outfit all day long and has been wanting to be a princess on Halloween for months it was surprising that we had to bribe her to get into her costume,"You'll get lots of candy!" and then she fell asleep in the car on the way to my sisters... so she wasn't diggin the pictures. But let me tell you, we were dying laughing because she's a smart little stinker and her candy bucket was full to the brim by the time we were done. We couldn't figure out how she had so much more candy than everyone. Until the last door when we heard her saying, "this one is for Allison, this one is for KC, this one is for me..." while she picked out her candy.
Poor Avery is sad in above picture because Captain Cilantro's boot accidentally stepped on her fingers. The best was my mom consoling her, "It's okay, we'll put some candy on it." lol
And lastly, an ode to my mother, who ingrained in me when I was a little girl a love for Halloween & a desire to humiliate myself for candy!
heehee... love you mom!