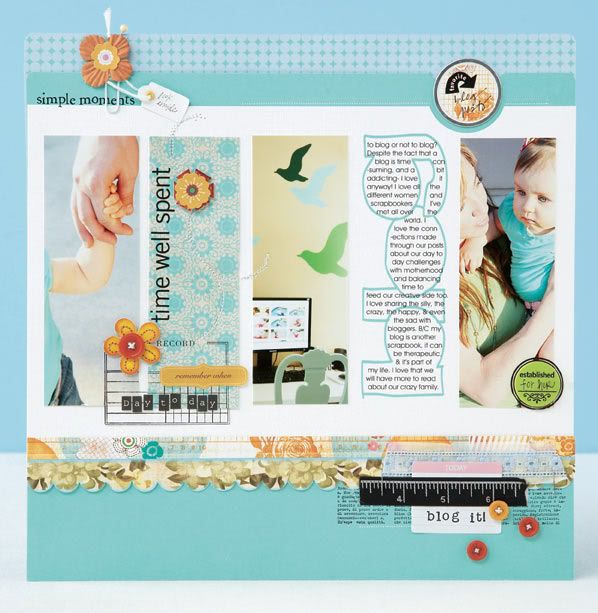 To Blog or not to blog? That is the question.
It's a big joke when I'm around the Kartchner fam because whenever
Em
or I pull out our cameras everyone wonders if their pictures will be on our blogs tomorrow. You may even hear "this better not be on your blog!" (Making blackmail more attainable.) Or Collin's favorite, "If you don't blog it-did it
really
happen?" :)
My layout above about blogging is seen in my November
Dear Lizzy
column for
Creating Keepsakes
where I address your every blog need and offer a smokin' cool coupon code... just keep reading. :)
A bit ago I asked my awesome blog readers if anyone knew how to publish a blog into a book & a bunch of you mentioned
Blurb
. I was extremely excited because I spend a lot of time blogging and refer to it as my online journal but I couldn't picture myself, or my kiddos, someday sitting at the computer for hours reading posts. What I can picture is them flipping through the pages of our blog book at the end of each year & years to come. To sum it up, included in my Dear Lizzy column you'll find that Blurb wants to offer Creating Keepsakes readers 10 bucks off your next book! Just
click here
for the promotion code
(creatingkeepsakes10).
It expires November 30
th
right before their busiest season. I've had a blast creating mine and reminiscing. When blurb
'slurps your photos'
it's like watching your life flash before your eyes. :) Are you excited yet? I am!