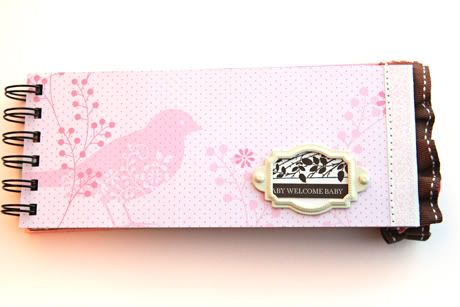 My friend
Jamie
is a Stampin' Up demonstrator slash creative genius who sent me her inaugural
scrapbooking kit, and all I have to say is ah-ah-awesome! I love the colors, the paper, the embellies, the whole thing! I had a total blast putting together this mini-album for my little Q-Bear! The chocolate & pink papers are so versatile & worked perfectly with her photos. I started by cutting some chipboard into 3 1/4"x 8" pieces with a total of 7 pages. I covered each page front and back with the yummy papers.
My favorite part was adding the ruffled ribbon to the edges. Using my sewing machine, I stitched a loose line across the middle of the ribbon, gathered it a bit, then secured it down with some glue dots at the end of 4 of the 7 pages.
The "giggle" text and other cute words are actually stamps from a really cute Stampin' Up set (call Jamie for some help with that;)
Once I finished the pages, I whipped out my trusty
Bind-it-All
to quickly turn my pages into an album. (Which is now available in
pink
, but I can't justify having 2... yet!) Oh Bind-it-All...what would I do without you?
If you want to make an album like mine or get your hands on all this yummy goodness, check out Jamie's
(new) site here!
To start her venture off right, we're giving one of these fabulous kits away! Leave a comment with the Trick-or-Treat candy you would never trade as a kid...or the candy you'll sneak out of your kid's bag...mmmm...Reese's Peanut Butter Cups. I'll choose a winner in a couple days.


PS I've gotten a lot of questions about blurb and how it's not working with blogger... which is so weird because a couple days before I did that blog post I started my book & I use blogger. Hmmm. I wonder what's up with that? I will look into it. :)