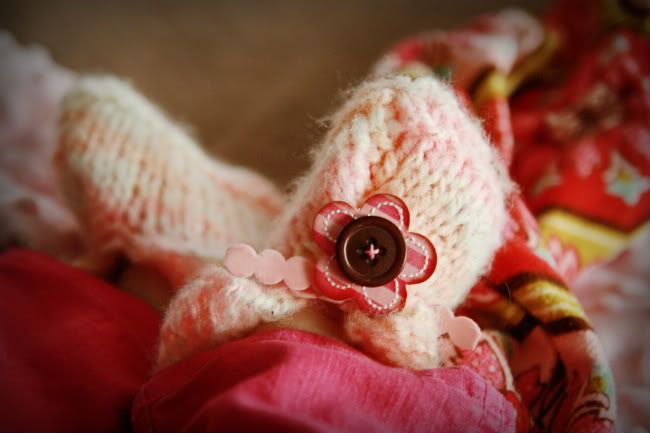 Perfect for a snowy day!
These were part of my gift from Kristen at the CK Christmas party and I love them so so much! They kept slipping off Q's little feet so I tied a ribbon to hold them up & added that cute Sassafras button flower. :) Next year I may need to add 'learn how to knit' to my 2009 goals.
Here's a pic of the team at the Christmas party. Lisa was happy when she opened her Josh Groban CD. (I remembered her husband surprised her with tickets to see him live in Vegas.) She didn't have the Christmas CD yet so that was good!
It's always fun to see a finished project like recently when I saw the cover page & my pages in the new book
Get Creative with Type.
Working on Brian's book was awesome!
Searching for cool ways to use type was such a fun challenge.
Here's a sneak peek at one of my pages. It wasn't so much about using type in an interesting way but about visual hierarchy.
What you don't see when you look at the picture below is that I was 8 or so months prego, Avery was getting a piggyback ride because she wanted to do anything but take a nap, I was holding out the camera upside down so I could take the picture with my left hand. I guess you can chalk that up as another cool Mommy skill. ;)
Needless to say... this book is
fabulous!