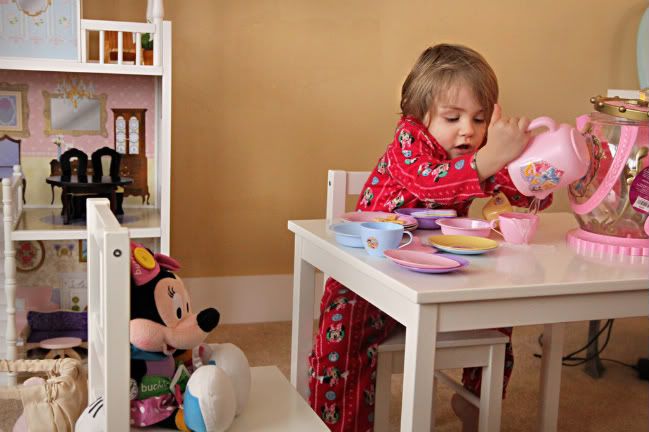 There's been a lot of tea parties around here recently since she ripped open this tea party "Princess" set from Santa. Which means we've been drinking a lot of luke warm water & eating Winnie the Pooh crackers. Minnie doesn't complain though. :) The photo is from Christmas morning, hence her new doll house in the back ground that she absolutely loves! Our family room had some extra space so I set up a work table & this little table for Avery from Ikea so she could color or read, or in this case spill water, while I work.
I have officially been scrapbooking at an unhealthy amount. Is that possible, you ask? I didn't think so either-but it is. It's still totally awesome & I'm having a blast doing it because these scrapbook pages are going to blow your minds;) I just get really tired when I finally stumble into bed. Kinda like when I devour a delicious chocolate cake, sure I am enjoying each bite, but how will I feel later? :) heehee!

Creating Keepsakes came out with a new Special Issue
101 Expert Solutions
and I had a fabulous time designing some pages for it. I worked on it right after Quincey was born. (I always like to think back on what I was doing since it takes a few months to hit the stands.) This one may be my favorite.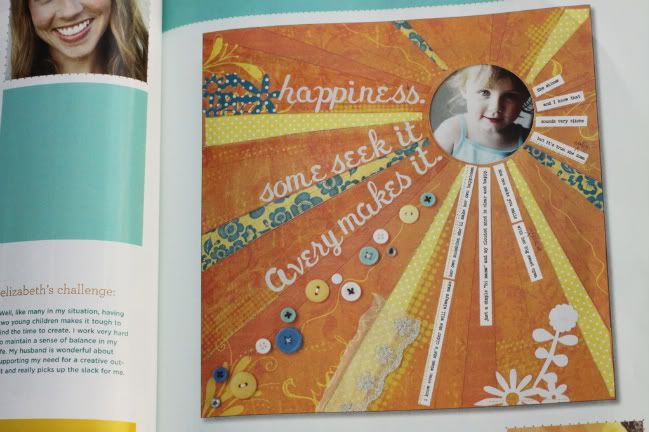 I used
this paper
from Scenic Route and my favorite
buttons
because they come threaded and are self adhesive.
Looking at that scrapbook page I can't help but think how BIG Avery has gotten since June. She is putting her words together to make sentences like when she's ready to go somewhere... "Awe we weady mommy?" Or my personal favorite is how she tells me to "be nice" when I am trying to discipline. It's too cute and hard to be stern when you are holding back from laughing. :)