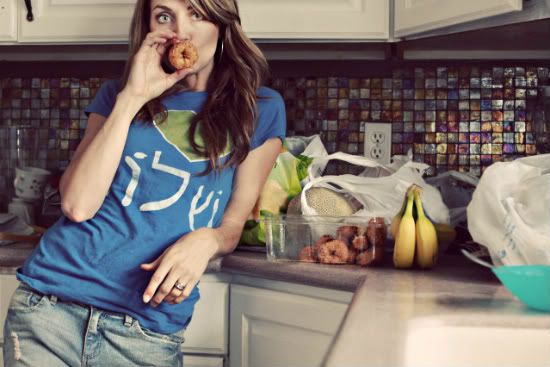 Somehow Collin's birthday that we celebrate this Wednesday has now become his 'birth week' (
He said he was crowning for a week... that's when I spit out my drink because I busted out laughing.)
This kills me because planning one day is already more stressful than finding the right gift at Christmas for my Greek grandma
(Love you grams
). I guess his birth week started tonight so he's at a baseball game with some buddies-that's when I made a turn for the worse.
When you are bored you should never ever eat donuts... especially the mini ones. The mini ones are the worst because you don't know how many of them it takes to make a regular sized donut & you just keep popping em in.
Can you tell I'm bored...
My recent favorite
jeans
+ comfy tee + donuts + chick flick (Return To Me, Sweet Home Alabama or The Notebook)=me tonight.
Wanna join me...
Does anyone know what my shirt says... ? I should probably figure that out before I wear it around town... :)