I really enjoyed reading your guesses... Some of you were getting close, some were right on...!
Jennifer Larson said... Are you going to design for Studio Calico? Like some product lines?
That would be cool... but nope.
Jen said... You've thrown me with the crochet clue
.
haha. Sorry.
Heathyr said... I have no idea but can I please just have that chocolate cupcake?
Yes! Come enjoy one with me!
xxxbesos said... Chihuahua sweaters? I'm just saying ;)
haha. That's my next project.
Collin said... A duet album with Vanilla Ice?
lol. Nice hun.
Sammie said... I'm so curious I can't stand it! Please don't make us wait too long!
Okay, okay... here you go!
For some reason I've had butterflies the last few days... probably because I was getting closer to reveal what I've been up to. These opportunities have been not only fun but such a blessing for our family and I'm excited to tell you...
Two words... American Crafts! I've teamed up with them to develop the Dear Lizzy Spring paper and embellishments line. yay!! (Someone pinch me.) I've been a raving fan of their products for-ev-er. Who doesn't love Thickers? I love their style and they were one of the first manufacturers I designed for years ago making QVC samples. It worked out like magic and Jennifer, David as well as the rest of AC have been such a treat to work with. The line in its entirety will be revealed at CHA in Anaheim the end of this month but check out the Studio Blog today & the next couple weeks for sneak peeks.
It's a Spring line with delicious colors and versatile enough so you can use it with everyday projects. My favorite part-FABRIC paper! Get ready for some fun creating with that!
Glitter buttons, glitter brads, glitter thickers, glitter honda civics... okay, not that last one.
Think... little girl dresses, bicycles, sweet handwritten words, crochet flowers, heart
banners, whimsical clotheslines, music notes paper & bumble bees.
Don't you love that ruffle ribbon below... oh, the possibilities! Here's a peek...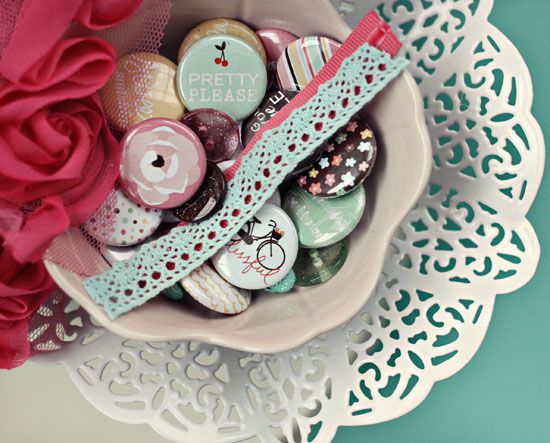 Hope you like it and enjoy creating with it. Now let's celebrate... cyber cupcakes for everyone! :)
PS The random winner to get some of this crafty goodness...
Kimberly C. said... I stood on my tippy toes trying to read what was on the top of the cupcake, with no luck!!!! ;-) Can't blame a woman for trying to peek though, right???