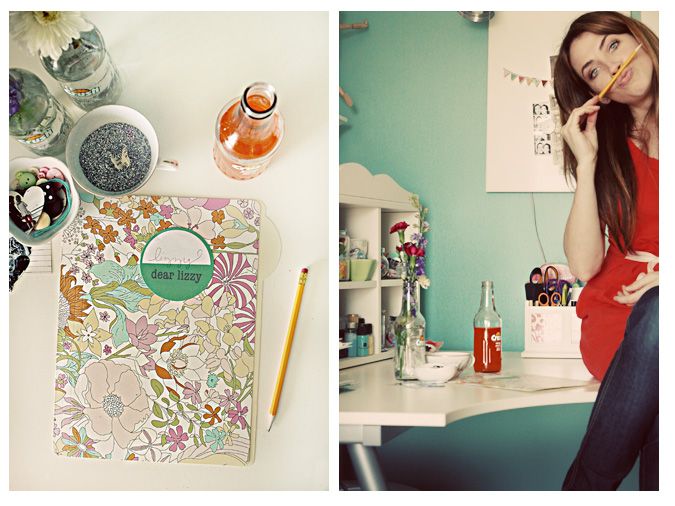 I think I might have been in denial about my Dear Lizzy column in
CK
. It was so so fun and surreal for me, being a reader for years, to have my own article. I loved it. Creating Keepsakes made some changes to the magazine but I am still a Contributing Writer for them. yay! With three pages in a fun article coming up so keep your eyes peeled.
I've been thinking that it would be quite fun to continue the Dear Lizzy question and answer format on my blog. Not just because I purchased a cute, new folder that I am anxious to fill. Mainly, I enjoy hearing from you, love finding solutions, offering support and answering questions.
So, here's how it works:
-Think of a question. (Any sort of question, it could have to do with a past project I've shared here, scrapbooking, photography, blogging, life, crafts or anything. Well, not anything. ;)
-Email me your question: elizabeth.kartchner(at)gmail(dot)com
-If I choose your question for upcoming blog posts you will receive happy mail from me... because a little bribery never hurt anyone.
I'll start of with a popular question:
... I remember a while back when you posted about painting your scrapbook room and you posted the color
. However, I can't seem to find it. Would you be so kind to tell me the name and brand of the paint
you used. I would love to use that color
in my laundry room. And I am actually feeling inspired at the moment to get off my booty and give my laundry room a makeover. I would love to hear back from you.
Keep up the awesome work!
Hi Chrisanna,
It is my favorite paint color! Made by Ralph Lauren called Sun Washed Blue. Purchased at Home Depot. Thanks.
Can't wait to read your questions!