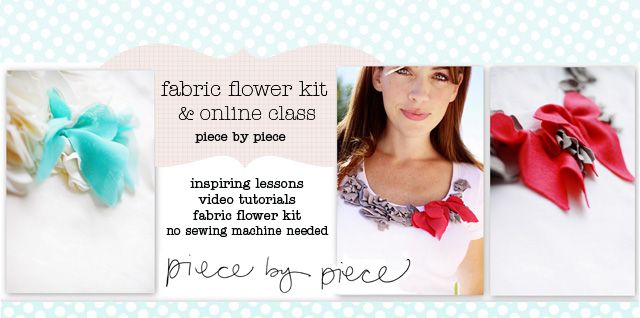 Piece by Piece
includes a fabric flower kit + lessons to make your own embellished tee.
(kits are limited.)
Our life is put together piece by piece
pieces of who you want to become
The class will include:
7 lessons including photos, written instructions & video tutorial on how to make an embellished fabric flower shirt.
Inspiring messages and journaling prompts
Kit with fabric flowers (or you can opt to just take the lessons)
Private blog to view lessons
Class message board
Giveaway
The facts:
Cost for kit + class $24.00 includes shipping and handling.
Just to take the class (12.00)
Begins August 30th and is self-paced with daily lessons.
No sewing machine needed, just a needle and thread.
No sewing experience needed.
2 color options (cream & turquoise or grey & magenta) see photos above. Also, the turquoise fabric frays on the edge.
You'll provide your favorite tee. (I'll share links to my favorites.)
If you'd like more than one kit send me an email.

elizabeth.kartchner(at)gmail.com

Leave a comment or email me with any questions

.
I'm so excited to package up these flowers so cute and send them to you. Then we'll get started in a couple weeks!
Sorry the class kits are SOLD OUT... I'll let you if I have any available or email me to be on a wait list. You can still take the CLASS just won't get a kit in the mail.
thanks,
liz