Just like the perfect piece in your wardrobe, the

Little Black Dress

kit club has fabulous monthly bundles of cuteness for your craft projects.
I learned this past weekend that a kit shipped to your doorstep is a great way to force you to get your scrapbooking started.
Especially because they put all the pieces together for you.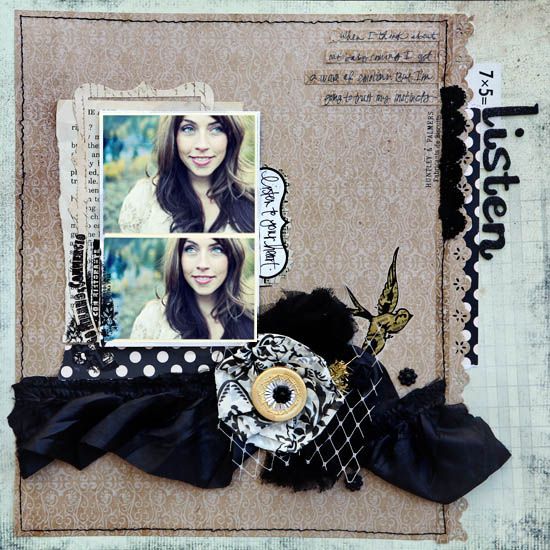 'Listen' is a layout about my thoughts as we are counting down from 5 weeks until this sweet
baby girl arrives. Less than 5 weeks! Holy smokes. That has gone super fast. Although the sleepless uncomfortable nights have begun so it might be a loooong 5 weeks.
Since life has purposefully slowed down until then, I am often thinking about our baby which is immediately followed with many different emotions. So, I continue to tell myself to listen to my motherly instincts, listen to what the spirit tells you, listen to your heart! I think I am questioning myself and my ability to make sure all three of my girls and Collin are loved and happy. So I'll continue to reassure myself.
Listen.
The flower is made using printed tissue paper from the kit. Start by folding it to the width you like then pleat into a circle.
I adore how

Little Black Dress

kits incorporate bits of vintage euphoria in each kit. This kit had flashcards, number cards, book pages & bingo game pieces. Very cool!
Black+White+Yellow is also such a fun color combination. Don't be afraid to design with color photos either.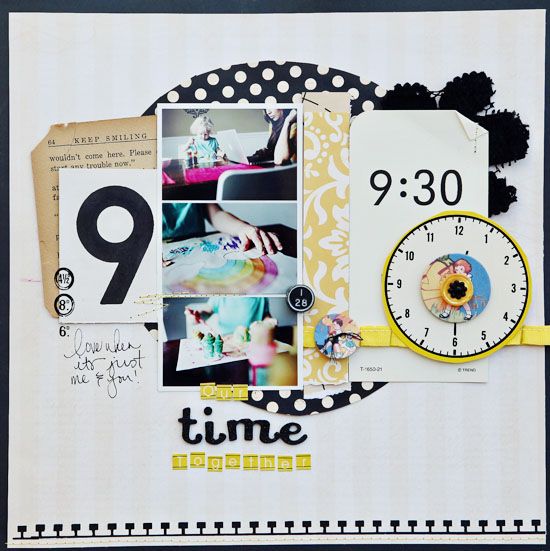 'Our Time Together' is a page using the photos and thoughts from

this

blog post. I used my self-timer to capture part of our morning routine of painting and emails.
Check out the

Little

Black

Dress

kits.
PS If you have signed up for my
online workshop
and have not received an email please email me at elizabeth.kartchner@gmail.com.
Also, I forgot to mention that the kits sold out last week. Email me if you want to get on a wait list.
You can still purchase a
class ticket
only and use your own supplies. Workshop begins November 1st.